Your partner for exclusive high-end sport model airplanes
---
To the current situation!

Unfortunately, due to Russia's war of aggression against our friends in Ukraine, we are currently unable to deliver models from Ukraine. While CCM Models has already started to repair the production facilities, Vladimir's Model has not yet seen the light at the end of the tunnel. Therefore we ask you to inquire individually for models as well as spare parts. The store is up to date, so if items are available here, you can get them.
We always get a lot of questions if it is possible to support the two manufacturers. And yes, that will work. We are already accepting donations and will forward them 100% to the manufacturers. Soon we will also start a call for this, so you can also see what you can help with.
Let's hope that this madness will end soon.
Your team from Mahmoudi Modellsport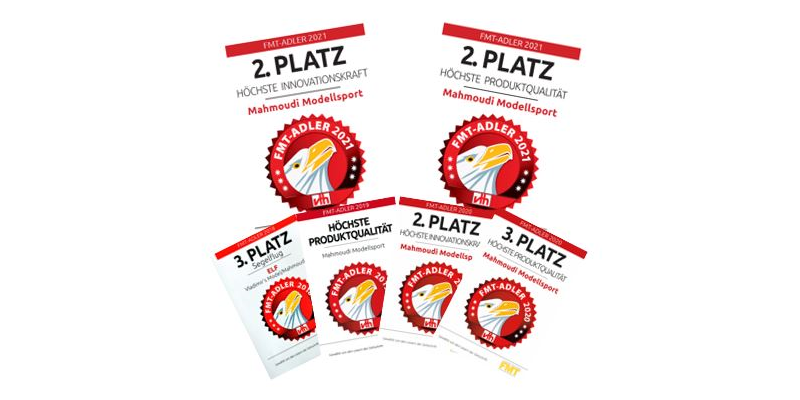 "FMT Adler" once again awarded!
We are very proud and impressed to have been awarded by the FMT readers again this year. Innovation and quality are two promises for which our company stands and we are all the more pleased that we were able to accept the awards in these two categories. Many thanks to all our customers and voters. 
Perfect Accessories
Only accessories tested by us
Only high quality components
Perfectly matched to the model

Build Service
Gradual Build as desired
Ready to fly and balanced
Support during your completion

Security with Know-How
Tested settings for each model
Tools for optimal set-up
Gets the optimum out of every model

Advice and Service
Individual advice by phone
Your personal design free of charge
Help even after the purchase ;-)
ELF/Spin DLG Fin
VM F5K/RES PowerNose CamProp 6x3(28mm)
KST, X06-N, HV